This week I took the one-man-band Greatie Press down to Rotunda on Great Mersey Street to take part in the North End Sketch Club ran by the amazing artist Jayne Lawless.
Don't worry, there will be no photos of my horrendous attempts at sketching in this article. I'm not cruel enough to subject you to those.
Jayne's North End Sketch Club runs twice a week: one on Monday at 7pm in the Everton Park Nature Garden (straight after Eve Lynch's Positivity Inc. 6pm free yoga) and Wednesdays 10am-noon at The Rotunda.
The Monday night sessions are sponsored by Erika Rushton & Eve Lynch of Positivity Inc. and the Wednesday sessions are sponsored by Rotunda. An important thought to remember that projects like this can't happen without funding.
Despite it being a rainy day, we ended up with quite a few people taking part and, despite not being able to draw at all, I LOVED it!
There was a good mix of age ranges and skill levels. Children, adults and pensioners. People like me who can barely hold an oil pastel and others who can actually draw. Like actually, ACTUALLY draw.
"The expectation

is coming from yourself"

– Jayne Lawless
Jayne starts the sessions with a few little warm-ups. We started with drawing a watering can in one minute with your non-dominant hand. Somehow the kids outperformed the adults on that challenge. It's harder than it sounds, trust me.
After a while, Jayne breaks you into doing more and more with your sketches and she's one of those people who has a HUGE positive vibe about her.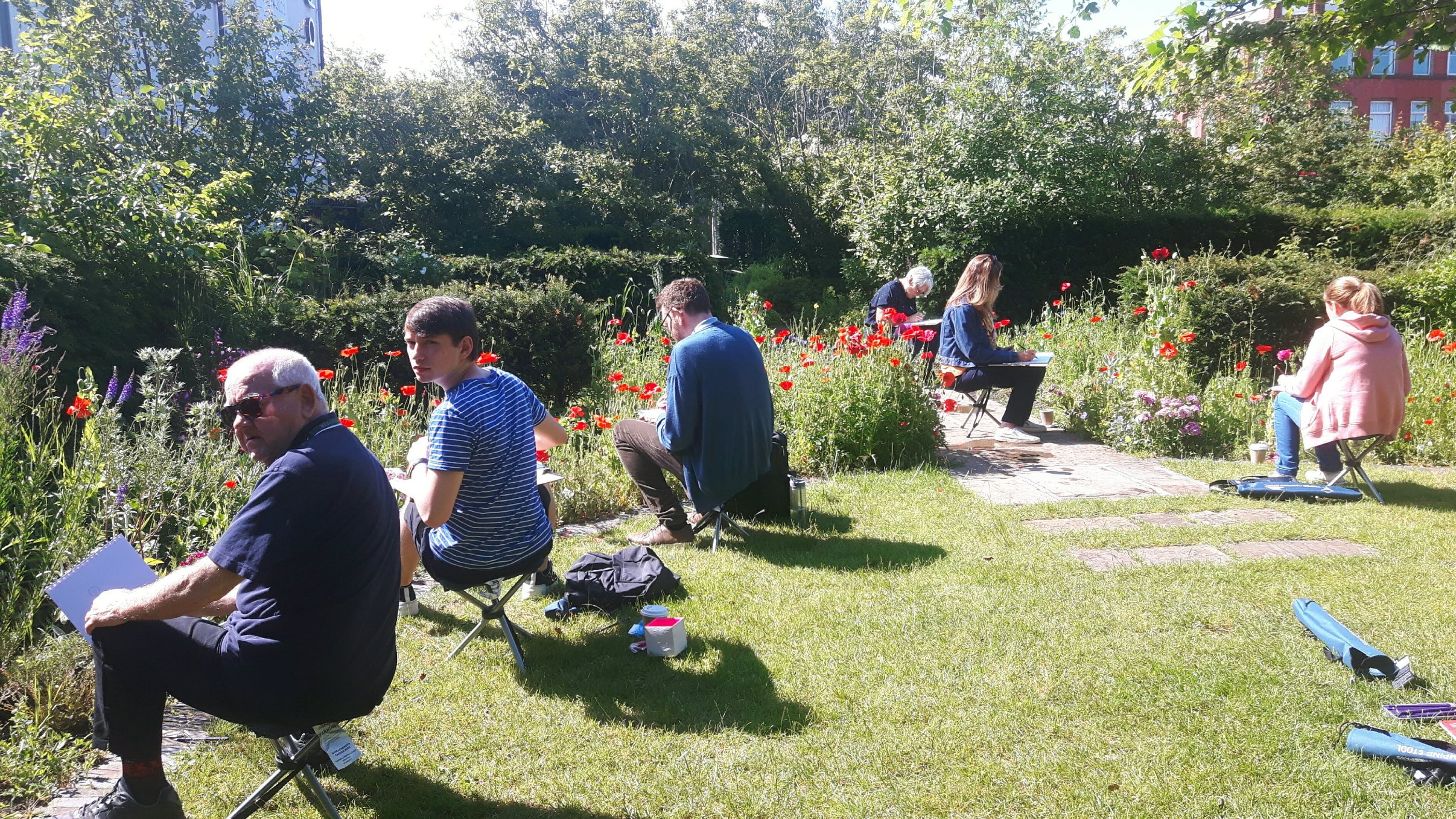 "The expectation is coming from yourself," Jayne reminded me when I complained about my monstrosity. "All we're doing is making marks on a page. That's all it is."
A comforting thought when you're just winging it, with a different coloured oil pastel in each hand.
If you're looking for something to do over the summer holidays (sessions stop at the end of August) then I would HIGHLY recommend coming along to a session or two no matter your age or skill level. You don't need to bring anything, Jayne has plenty of supplies.
So don't forget: Mondays at 7pm at the Nature Garden & Wednesdays 10am at Rotunda.
Jayne is also the founder of Dead Pigeon Gallery, a professional travelling gallery which has a show opening next week. 'A Little Painting Show', is literally an exhibition of little paintings by artists from around the UK curated by Josie Jenkins.
'A Little Painting Show' is at Dan Carden MP's Office on Priory Road between 6pm-8pm on Thursday 8th August.
Dead Pigeon Gallery's current show, called the Ralla Ecological Garden, is on in Kirkdale at the Old Griffin Pub near Bank Hall train station and will be there until the end of August.
__________________________________________________________
You made it to the end of one of my first articles. Congratulations!
You may be wondering: "What is Greatie Press?" – it's a little journalism project set up to discover what's going on in the Great Homer Street area and, hopefully, beyond.
I'm just starting out so any and all feedback is welcome via any social media channels, in person or via my email: hello@greatiepress.com.
There's no money in this for me right now (I might get around to putting ads on here someday), I'm just doing it because I love the area and want to know what's going on in the world around me.
While I'm out there discovering our area, I might as well share what I've found!
Please do share any of these articles if you think they're worth reading and, if you think I should be doing an article on a particular person or place, LET ME KNOW and I'll be there.
Thanks
Dan